Decorating styles are all about your personality, your lifestyle, and your emotions.  Quite simply, you are your own decorating style.  You have to go with your natural intuition when making design choices.  Are you a southern bell that grew up in a Georgian estate, or are you a city grinder with bright lights and tall buildings near your dwelling?  Here are the three most common decorating styles and how to achieve them in your home.
Contemporary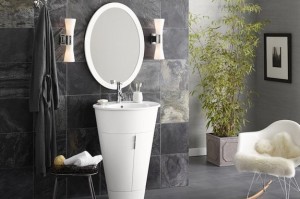 Contemporary is a decorating style often regarded as a modern form of design.  This decorating style has its place but that place is not everywhere.  Contemporary design is seen most commonly in large metropolitan areas and less in the suburbs. Think of the futuristic downtown loft with a minimalist vibe.  Very sleek and Euro trendy is contemporary. There are many ways to make your bathroom have a contemporary feel and look.  For instance, your faucet and sink can be changed.  I would recommend a vessel or basin sink to replace what you currently have.  Changing the placement of the faucet to a wall mounted unit is a quick way to achieve a contemporary decorating style.
Classic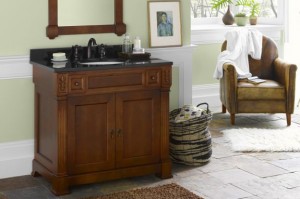 Mozart, Michelangelo, Da Vinci, these names make your brain automatically think of the classics.  Traditional decorating style is exactly that, classical.  Traditional design is timeless; it has been around forever and continues to be in style.  Think of lots of hand carved wood, oversized furnishings, corbels, columns and marble.  Italian, Spanish and French influences bring traditional style to American architecture.  Traditional is very timeless and time honored, there is a lot of history and life in traditional designs.  If you like the idea of living in a Roman palace or a Spanish villa, then traditional is your decorating style.  Traditionalist design can incorporate natural marble and cabinets that have a raised panel with an applied molding.  The details in the cabinetry are a sure way to pull off the traditional look.
Transitional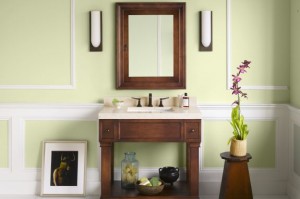 So you've decided you like some things more modern and trendy, and other ideas you have are a little more safe and conventional.  If this is the case, then you have a transitional decorating style.  You're just like the song,  "…I'm a little bit country and a little bit rock and roll."  Another way of putting it is to think of the seasons. Sometimes in between summer and fall, you want to wear the colors of summer, yet you layer for fall.  You can be prepared for anything and look good too!  Transitional is a rapidly growing category, this design choice allows homeowners to experiment while maintaining a safety net for return on investment.  Transitional design also allows you to bring in some personality to a room without overwhelming a potential future home buyer.  You can easily dress up your existing vanity by adding new hardware.  Changing out your faucets or shower head can also give the room your personal touch with a very small investment.
Think of your daily routine, your family, what inspires you.  Recall your favorite movie, favorite dish to eat or prepare, and your most memorable vacation.  These experiences are what have molded your decorating style.  Transitional, traditional, and contemporary all have their place in a home, it's up to you to decide which is for you!
Consider Dream Baths in Columbus, Ohio for your next bathroom remodel. Look on our website to view our design gallery and products.