If you're updating your faucet to an existing sink or buying a complete sink ensemble, be sure to match the type of faucet to the hole openings in your sink.
Single-hole faucets combine the spout and mixing handles—often a single lever—into one unit that requires only one drilled sink hole. For retrofits, some models include a bottom plate that will cover existing three-hole openings. Single-hole faucets are ideal for smaller sinks, such as powder room baths. Their simplicity reflects modern sensibilities.
Center-set faucets fit standard three-hole sinks (with outer holes drilled 4 inches apart). They'll have either a single lever or two handles mounted on a 6-inch plate. They're ideal for most bathroom sinks.
Widespread mounts have three separate pieces: Two handles and the spout. The standard distance between the handles is at least 8 inches, and the three pieces tend to be larger than other types of bath faucets. Smaller versions, called minispreads, are designed for standard holes drilled 4 inches apart.
Wall mount faucets have gained popularity along with freestanding or vessel-type sinks that require longer spouts that extend well over the top of the bowl.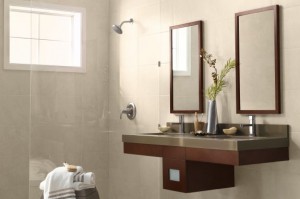 Bathroom Remodeling
Bathroom remodeling is generally the most cost effective home remodeling projects assuming of course you hire the right remodeling contractor  A bathroom remodel can also substantially increase the value of your home whether it's in Dublin, Westerville, Grove City, or elsewhere in the Columbus, OH Area. A bathroom remodel in Columbus OH can consist of just replacing the fixtures or it can be as extensive as laying new tile flooring, installing vanity cabinets, new sinks and countertops, new bathroom storage and new lighting. No matter how big or small the project is, choosing the right, bathroom remodeling contractor can save you money, time and stress. At Dream Baths we pride ourselves on having the most experienced team, great results and most importantly, happy customers. We know how important it is to keep the work area clean, get the job done quickly and to your satisfaction.