Bathroom cleaning is one of my least favorite tasks but I do have some tips after 20 years in the remodeling industry.  First, use your bathroom fan! This will help with mold issues and keep the caulk and grout fresh longer.  Use a squeegee or towel after each shower on the walls and glass doors. This will help delay soap scum built up, but when there is a buildup use a product made specifically for soap scum, it will make the job easier.
Cleaning tub, shower and lavatory faucets depends on the type of finish the faucet has. The oiled rubbed bronze or brushed brass finishes require mild soap and water with a soft cloth for the finish not to be tarnished. Harsh cleaners can pit many of the designer finishes on the market today.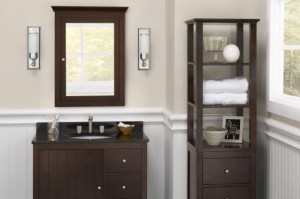 Another area which can require special attention is the bottom of tubs and showers with the no slip finish called perma-matt.  Once the textured finish gets brown and stained, regular cleaners will not do the job. Using a paste of Zud or Bar Keepers Friend can be applied and left on stained areas for an hour or so to remove the discolorations. Then keep up with routine cleaning so the problem does not return.
Countertops also require specific cleaners depending on the surface. Granite and marble countertops seem to be the most popular today and many people need direction on how to best clean this product. For everyday cleaning a mild soap and water with a soft cloth will work fine, do not use ammonia, vinegar or lemon cleaners due to their acidic nature, this can pit granite. If there is a stain in the granite or marble use a poultice of baking soda, dish soap and hydrogen peroxide to make a paste. Apply paste to satin and cover with plastic wrap, let it sit for 24 hours before wiping off and cleaning. Granite should be resealed every couple of years with granite sealer, just follow the fabricators directions. It is as simple and wiping it on and waiting 15 minutes, then clean it off.
I hope these pointers help the task of bathroom cleaning a little easier, with less effort overall.