Here at Dream Baths we understand that a bathroom remodel  requires  more than just a redesign,  the remodel needs to meet the client's needs  and expectations. Anyone can tell you something looks nice, but if current problems are not solved it doesn't matter how it looks. We already know there is a problem because homeowners have sought us out; designs in hand asking for a second opinion.  More often than not, clients tell us what upsets them about their current design/designers.  What we find interesting is that it takes two or three warning signs before a client will seek help elsewhere.  Here's  a list of three characteristics to look for in a good designer.
Problem Solver:  This may sound simplistic, but if a designer doesn't address existing issues like functionality and storage with the current space and propose a solution it doesn't help the homeowner.  Increased storage space in needed in almost every bathroom remodel.  Designing the same double bowl vanity the client currently has is not going to magically make the space more functional because it is new.  However, adding a wall cabinet that divides the space and maximizes storage will increase the functionality of the space.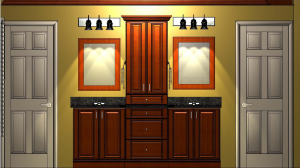 Designs for Re-sale Value:   A good designer will be familiar with surrounding property values and should be able to discuss how much of your investment you will get back. He or she should also be respectful of the budget discussed and show you products that won't price you out of the neighborhood.
Your Space Not Mine Mindset:   Believe it or not we have heard of designers who design for their own ego. A  good designer will listen to your requests and create a functional design specific to your needs and wants.
Given the amount of information that is available to homeowners who are considering bathroom remodeling through numerous channels such as Houzz, HGTV and DIY Networks, websites, etc. bathroom designers need to be more than a salesperson.  They need to educate homeowners and be able to come up with solutions, not the same problems.  Here at Dream Baths we recognize the importance of listening to our clients. We are at your side every step of the way to ensure your project unfolds the way it was designed. Contact us today.