Many homeowners are using their bathroom remodel as a test run for remodeling their kitchen.  This gives the homeowner the opportunity to see if he/she likes the remodeling company chosen, observe how the designer manage your project and how it affects your family life.
First, meeting with several kitchen and bathroom designers can be overwhelming and time consuming.  Understanding and sorting through bathroom remodeling quotes and staying mindful of your budget can be daunting just to think about.  Starting with a small area, like a bathroom, can make your decision making easier in the future for bigger rooms in your home like your kitchen.
Second, once you have chosen a bathroom remodeling professional take note of how they manage your project.  Are they respectful of your time and budget?  Are they responsive to issues and able to provide solutions in a timely manner?  Are the installers professional, punctual and clean up at the end of the day?  If you find a company that provides excellent customer service and a good remodeling experience check and see if they offer kitchen remodeling services.  You may be able to work with the same designer, who already knows your taste and needs.  Some companies offer more remodeling options than their name implies.
Finally, because most homes have more than one full bathroom, a master bath remodel may not be as disruptive as a kitchen remodel.  The daily stress of having a portion of your home "torn up" or "unfinished" can be very stressful for some homeowners.  By starting with a bathroom remodel you have the opportunity to see how your family handles these temporary changes.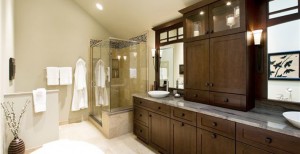 Dream Baths was created as a sister company to Kitchen Kraft to let our customers know that we offer bathroom remodeling as well.  We handle everything from plumbing, electrical, framing, demolition, drywall, carpentry and flooring, and eliminate the need to hire multiple contractors. Our designers not only design your dream bathroom but also aesthetically put it together without having to hire other contractors. This methodology makes the design process much more convenient and cost effective. Set up your free consultation today!