There are two types of heated flooring systems and the size of your remodel will be a factor in which one you choose.  An electric heated flooring system is good for smaller spaces like a bathroom remodel, while the hydronic system is for larger spaces and remodels.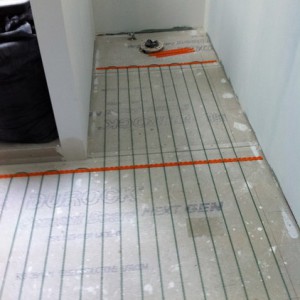 The electric heated flooring system is powered by mats or electric cables that are made with conductive plastic.  The cables or mats are installed below the floor material where they emit heat.  Benefits of the electric radiant heated flooring system include on-demand heat and having heat on a timer.  Some of the drawbacks of this system is that it is designed for comfort and it does use more electricity which leads to a higher energy bill.  Lastly, it is not meant to replace a primary heating source and is not good for large or whole house remodels.
The hydronic heated flooring system is a network of tubing under the floor that is pumped with heated water from the boiler.  This system is meant for large scale remodels.  This system allows for a consistent temperature for longer periods of time.  The floor slab gives off gentle heat and the structure of the house retains the heat.  Another benefit is little energy is needed to maintain heat once optimal temperature is reached.  The two main drawbacks of this system is not for homeowners who turn on the heat at different times and the cost of labor is higher than the electric system.
If you are interested in remodeling your bathroom, Dream Baths by Kitchen Kraft, located in Columbus, Ohio offers a variety of design options and products. We can show you what your design project will look like with 3-D visualization in full color so you can create the perfect bathroom for you. We are at your side every step of the way to ensure your project unfolds the way it was intended. Your satisfaction is our goal! Contact us today!