The devil is in the details.  When it comes to bathrooms, those details can make a big difference between an average bathroom and an AWESOME bathroom!  Cabinetry hardware, fixtures, and bathroom accessories play an important role in tying the space together and help to create a finished, polished look in your bathroom.  Don't just blow past the minor details…they pack a giant punch!
Bathroom Bling Is King
You wouldn't go out wearing a nice outfit without jewelry to accessorize it, right?  Your bathroom is craving a little bling too, and hardware and accessories are just the pieces to bring it.
A shiny, sparkly finish like chrome can be a good source of shine in your bathroom and will put a modern spin on the room as well.  Most designers also agree chrome never goes out of style, so it is likely to still feel current years from now.
Metallics like brass, gold, copper, and bronze will all reflect light and thus provide some shimmer.  Contrary to popular belief, you can mix metals successfully in the bathroom for a sophisticated look.
Crystal and glass accessories like toothbrush holders or soap dispensers will make a sparkly addition to any bathroom and can mix quite easily with metallics such as chrome, nickel, or bronze.
Mix Or Match Metal
Most of us think that everything has to match.  If we go with a brushed nickel showerhead then the cabinet pulls and faucet must all be the same.  While some designers still hold to the idea that a matched look is more pulled together, most will agree that mixing things up in a smart, coordinated way can add character to your space.
Be sure to blend a variety of finishes.  You don't want one thing to stand out as being way off from the rest.  Pick colors that are close to the same hue.  For example, mix brass with crystal knobs.
A mixed space will create a more relaxed feel in the room and also add more visual appeal.
Mixing sleek modern fixtures such as a chrome faucet with an antique oil-rubbed bronze chandelier can be a great mix of old and new.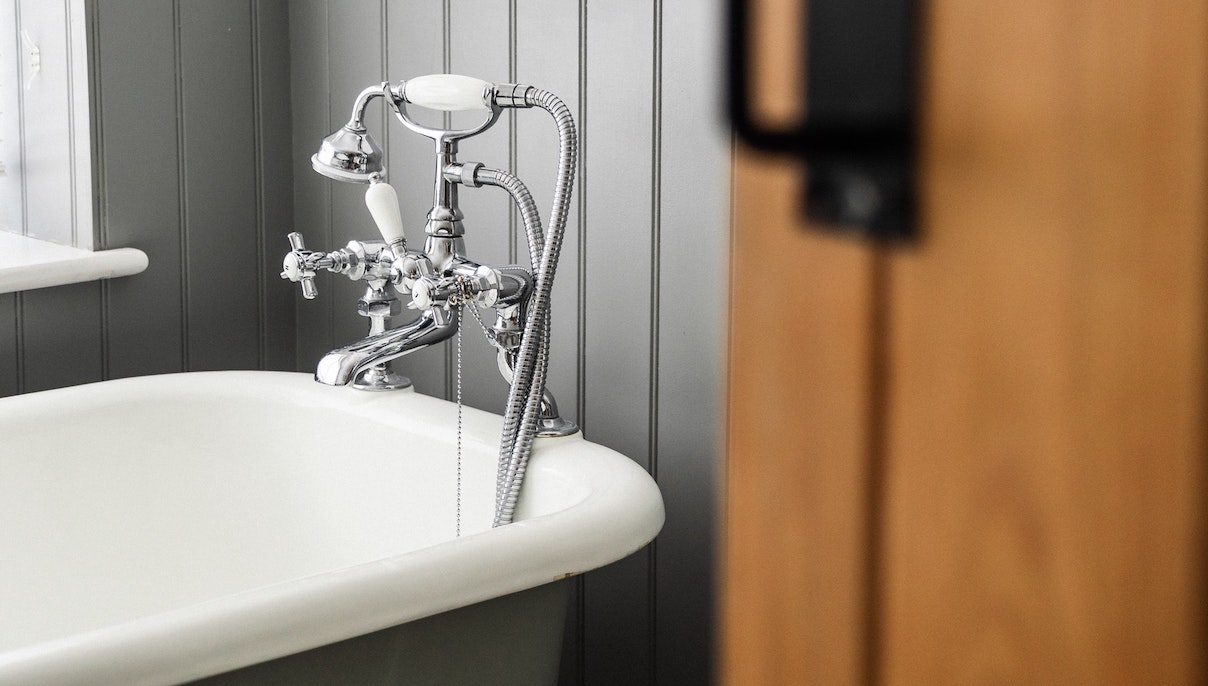 Know Your Finishes
There is a huge selection when it comes to bathroom finishes.  It's important to know all of your options before making decisions for your bath remodel and have a handle on which finishes match with individual styles and needs.
Here's the lowdown on a few of the most popular finishes:
Brass

Creates a vintage look.
Durable.
Easy to clean.
Back in style- can work in an eclectic or modern bathroom.

Oil-Rubbed Bronze

Creates a traditional look.
Durable.
Easy to clean-won't show water spots or fingerprints!
Goes well with a traditional, Mediterranean or even Tuscan styles.

Brushed Nickel

Extremely durable-won't show wear or spots.
Relatively inexpensive.
It will blend in with stainless steel and not stand out as a statement piece.
Can work with just about any style.

Chrome

One of the least expensive finishes.
Shows fingerprints and water spots, so it is difficult to keep clean.
Pairs well with sleek and modern styles.

White

Usually made of porcelain or heavy plastic, so prone to chipping or cracking.
Shiny and clean.
Works well in a country or farmhouse style.
Go For Unique Accessories
You don't have to just limit yourself to standard soap dishes and towel bars.  Think outside the box when it comes to bathroom accessories to add plenty of character and charm.
Instead of a towel bar, consider hanging baskets with rolled towels.
If you are redoing a bathroom, use the opportunity to have a built-in soap dispenser  installed to keep things smooth and clean on your countertop.
A towel warming drawer is a bathroom gadget  that could be a welcome bathroom accessory, especially on those cold winter nights.
Pulling together each individual piece when designing a bathroom can be like putting together a puzzle.  There are many decisions, some small and small large, that go into designing a dream bathroom.  That's where we can help.  Our certified bathroom designers have the experience and expertise necessary to make each and every decision easier for you.
Let us help you put together your dream bathroom puzzle.  Call Dream Baths today: (614) 754-7045.