Aside from demolishing walls, you may think you are stuck with your small bathroom.  Actually, your small bathroom does not have to be an undesirable feature of your home.  Turn that negative around with some uncomplicated fixes to maximize your space and give the impression of added space instantly.  Your small bath can live larger!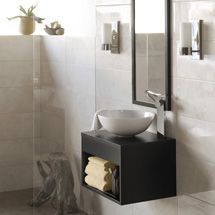 Bathroom Storage
Keeping your small bathroom clutter-free and organized is the key to making it appear instantly bigger.  Clutter takes up space, and in a small bathroom that space is precious.  There are great storage options available for bathrooms, many of which will add functional space immediately.
This includes:
Storage cubes:  This is a great way to store rolled towels and can be a cool addition to a children's bathroom.
Towel racks:  These can be over-the-door or wall-mounted.  Either way, they are taking towels off the floor and adding floor space for other more useful things like a scale or waste can.
Over-the-toilet storage:  In a tiny bathroom sometimes the only way to add storage is by going up. Putting a shelving unit over the toilet will allow for a place to keep extra toilet paper and toiletries.
Lavatory Lighting
Any small space can benefit dramatically from the addition of light.  Whether it is natural or artificial, just get all the light you can in your bathroom.  There are a variety of options for bathroom lighting that can promptly add the appearance of added square footage in your bathroom.
Wall sconces:  A pair of wall sconces flanking a mirror at eye level will do wonders not only for your complexion but for the size of the room as well.
Above-the-tub chandelier:  Turn your small bathroom's design up a notch by adding a stunning   chandelier over the tub.  This not only creates a focal point in the room but adds much-needed light that will create the appearance of added space.
Natural light:  The bathroom needs natural light, although it is often the room that receives the least.  There are ways to add natural light, either with the addition of a window (which can be costly and involved) or via skylights.
Small Vanity Mirror
In a small bathroom, you are unlikely to be able to fit a grand double vanity.  Actually, you wouldn't want one even if you could fit it because an oversize piece of furniture in a small room will immediately make it feel smaller.  Keep things to scale.  If your room is small make sure the furniture (vanity, toilet, tub) match the scale.
  These are also ways to make a small vanity more functional:
Add baskets underneath an open vanity to add storage space.
Consider a wall-mounted cabinet for medicine and other toiletries above a small vanity.
Avoid clutter and decorative items.
Add a mirror above the vanity to reflect light and create the illusion of more space.
Glass Shower Door
To make a room appear larger, try see-through pieces in the room.  This actually tricks the eye to look through the piece and creates the semblance of more space.  This can be achieved easily in a bathroom with a clear glass shower door  as opposed to an opaque door or shower curtain.  The light will be able to filter through the door and bathe the room in light, thus creating the appearance of more room.  Glass shower doors may be a more expensive initial cost than a shower curtain (typically around $1000 or more), but the maintenance will be minimal and the life of the door will be much longer than a shower curtain.
Striped Wallpaper
Yes, we said wallpaper…in the bathroom.  Contrary to belief, wallpaper is back and it is back BIG.  Wallpaper is not what it used to be and can actually be used quite successfully in a small bathroom to create the look of more height and space in general.  Striped wallpaper can be versatile, working in a casual setting like a kids' bathroom or in a very upscale master bathroom.
Vertical stripes will create the illusion of height and make ceilings appear higher than they are.
Horizontal stripes will make the room feel wider and have a bit more of an edgy vibe.
Your small bathroom does not have to look small at all.  Maximize your space and your design to make the most of what you've got.  The expert bathroom designers at Dream Baths can work with you to transform even the smallest bathroom into a grand a fabulous space.
Call Dream Baths today for a consultation to get started on transforming your bath from so small to simply sensational!  (614) 754-7045