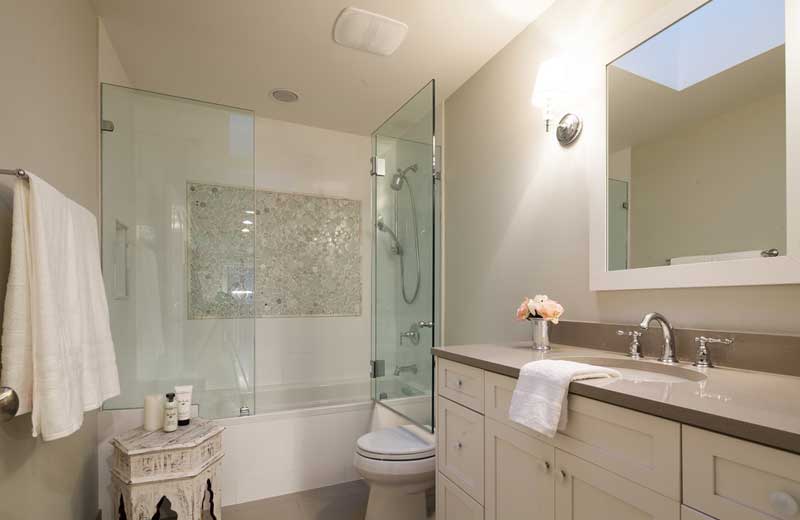 The bathroom should be a place of peace and restfulness at the end of a long day.  However, for seniors and those with disabilities the bathroom can be a dangerous and frightening place.  In fact, most consider the bathroom to be the most dangerous room in the home and the most common sight of potentially life-threatening falls.  When designing a bathroom for elderly or disabled users, there are many crucial questions to ask to ensure that this unique project turns out to be not only aesthetically pleasing but safe and functional as well.
 Bathroom Accessibility Questions To Consider
Where will the bathroom be located?
If the home is 2-story then there should be a bathroom on the main living level for easy accessibility for the elderly or disabled.  If there is not an existing bathroom on the main living level, consider adding one via an addition or remodeling project.  If this is not a possibility, the addition of a chair lift or elevator to the home will make the second-floor bathroom more accessible.
Is there ample space to move within the bathroom?
Seniors, elderly, and disabled persons often have assistive devices such as wheelchairs, canes, and walkers.  When planning a bathroom remodel with these individuals in mind, be sure there is ample space around toilets, baths, and showers to allow for the use of these devices.
Is the toilet at a safe height?
It is often very difficult for older or disabled individuals to get on and off a standard toilet seat.  Having an elevated seat makes this process safer.  This can be achieved either through a seat extender (purchased at a home health care store) or replacing the toilet with something that is higher.
Is toilet paper easily accessible?
Elderly and handicapped individuals often have difficulty reaching toilet paper in the bathroom, as they must remain seated to avoid falling.  Be sure toilet paper holders allow to keep one hand free and stay within reach from a sitting position.
Grab bars can significantly improve safety in the bathroom.  Although not always visually appealing, these bars added near the toilet and in the shower provide a secure, stabilizing presence in the two areas of the bathroom where falls are most likely to occur.  Manufacturers are now attempting to make these more attractive by combining uses, such as a grab bar/bath shelf combo.
People of advanced age often have difficulty with depth perception and overall eyesight.  Increase visibility and ease of use with contrasting colors for countertops, showers, and toilet areas, thus making their functionality safer.
Is the floor a non-slip surface?
It is absolutely crucial to have non-slip surfaces in the bathroom when users are disabled or elderly.  Polished tile surfaces and linoleum are very slippery when wet and can lead to falls.  Matte-finish tile and honed stone are the best choices on both the bathroom floor and shower floor surfaces and provide the most traction.  Anti-slip tape and mats can also be used in the shower or bathtub for increased safety.
Is the shower or bathtub easily accessible?
Getting into and out of the shower and/or bathtub can be scary and downright dangerous for an elderly or disabled person.  A walk-in shower or bathtub will make this process less daunting and perhaps prevent falls.  A shower with a wide glass door and no ledge can make it possible to even use a wheelchair in the shower.  There are also many attractive walk-in bathtub options now that improve accessibility but maintain the beauty in the bathroom.
Is there a spot to sit down in the shower?
Elderly adults and disabled persons often have a hard enough time getting in and out of the shower.  Once in, they may need to sit down for stability or even just to rest.  Having a shower bench or seat installed when designing a new bathroom is a very practical addition.  Also, having a handheld shower fixture is another beneficial addition that will allow the user to remain seated and still uses the water to complete a shower.
Designing a new bathroom to accommodate the aging or disabled can be a complicated task.  Dream Baths has experienced, knowledgeable certified bathroom designers on staff that can guide you through this process and ensure that your new bathroom is not only exquisite in style and design but fully functional and secure as well.
Call Dream Baths today to get started on your new bathroom: (614) 754-7045.