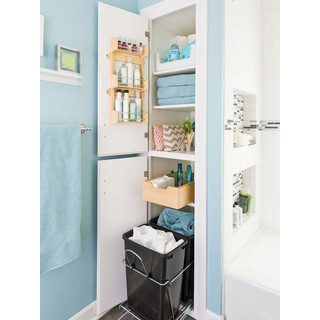 Imagine how nice it would be to walk into your bathroom and find everything where it is supposed to be, neat and organized.  Okay, now wake up.  For most of us, this seems only a fantasy that would never become a reality in our home.
This bathroom might not be out of your reach!  Customized bathroom storage solutions can help you keep everything you need where you need it without disrupting the design or layout of your bathroom.  Check out some ingenious storage solution ideas that could take your bathroom from a messy disaster to a magnificent dream!
Get Creative With Your Storage
Vanity Niche:

Vanities take up a lot of space in the bathroom, yet most of the space above the vanity is wasted.  Other than a mirror and lighting, little goes above the vanity other than wasted wall space.  Instead, build in a niche above the vanity with shelves to provide storage for things like guest towels, decorative touches, or perhaps a candle to keep the space smelling fresh for guests.  To up the style, add unique or colorful tile to the niche walls to make them pop and stand out as a focal point in the room.
Bathroom Armoire:

If you have the room, a bathroom armoire can add a tremendous amount of storage for towels and bath necessities and even some clothing to keep the walk from the bathroom to the bedroom a little more, eh, concealed.  These pieces are often custom built to match cabinetry or can be unique furniture-like pieces that add character and charm to the bathroom without exactly matching existing cabinets.

Storage Tower: 

If you are remodeling a bathroom, consider adding a custom built-in storage tower.  These floor-to-ceiling built-ins offer a tremendous amount of storage for all of your bathroom necessities and are a modern take on the traditional linen closet.  Go for an open design and try rolled towels in a variety of colors to add a pop of color to the room and up the style.

Sink Skirt: 

In a small bathroom, storage space is extremely limited.  In a powder room, for example, there may only be room for a small pedestal sink and a toilet.  That does not mean that these rooms, small as they may be, can't still house all of the things you need.  A pedestal sink can be covered with a decorative fabric "skirt" to provide hidden storage under the sink that would otherwise be completely useless space. 
These are just a few ideas that can help turn your dysfunctional bathroom into a more composed symphony.  Is your bathroom past the point of functionality?  At Dream Baths we work with customers every day to turn even the most unappealing, chaotic bathroom into a true masterpiece of style, design, and function.
Call Dream Baths today to set up a consultation with one of our talented certified bathroom designers: (614) 754-7045.