Four tips for a quick bathroom deep clean
There are few worse things than deep cleaning a bathroom and setting aside the time to do it. The dust, water drops, toothpaste, hair and overall grime can keep the task moving further and further down your "to do" list. Applying these quick tips can keep your bathroom looking clean and fresh with minimal time and effort on your end.
1.)    Keep a box of Lysol Disinfecting Wipes under the sink. After everyone in your home is done in the bathroom each morning, give the counter tops, sink and faucets a quick once-over wipe down. It takes less than a minute and keeps gunk from building up in and around the sink. Plus, the fresh scent keeps your bathroom smelling clean all day long.
2.)    Use an old washcloth and warm water to wipe down the mirrors. Many cleaning solutions that say they are safe on glass often leave a streaky residue that you find yourself scrubbing over and over again. The quickest and cheapest way to clean the mirror is with a rag and warm water.
3.)    Put only daily necessities in the medicine cabinet. Medicine cabinets can often collect homeless junk lying around the bathroom. Dust builds up, cotton balls fall out every time the door is opened and the toothpaste lid is constantly missing. To fix these issues, store only the items used every day in the cabinet. It'll save you time and cut down on clutter and messes around the bathroom.
4.)    Wash the shower curtain. Once every few weeks, throw your shower curtain into the washing machine for a deep clean. It will keep your bathroom looking fresh and crisp, and more sanitary for your family and visitors.
Keeping things in place by taking a few minutes each morning will save you time in the long run and remove one more item from your "to do" list. Getting into a weekly routine will become second nature and soon enough won't even seem like "cleaning."
Why not use these tips in the bathroom of your dreams? Dream Baths bathroom remodeling in Columbus, Ohio, a division of Kitchen Kraft Inc., is a leader in the design/remodeling industry and offers a nearly endless selection of bathroom designs and furnishings to please your needs. Our certified Columbus bathroom remodelers will make your bathroom dreams a reality.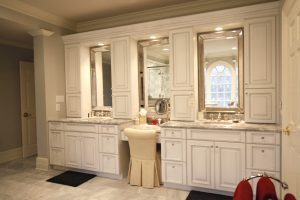 To view more photos of bathroom projects, visit Dream Baths Houzz page!