An experienced bath designer does more than just help you select the right color tile or accessories. He or she can coordinate your remodel from the beginning design plans to final installation. Choosing the right designer is your first step to ensuring that your bath remodel will be well planned in function as well as beauty. Whether you are looking for a private spa retreat or one with easy access for someone with a disability, a certified designer will have the knowledge and understanding to make your dream a reality.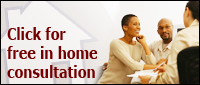 Helpful tips to consider when hiring your designer:
Compile a style
You have probably been thinking about remodeling for some time. Look at websites and magazines that have pictures of bathrooms you love. Print them out and label the different elements that caught your eye. This will be the spring board that your designer will use when putting together materials for your remodel.
Assess your needs and budget
Prior to meeting with a designer for the first time think about how much you are comfortable spending on your remodel. This will ensure that you and your designer will be on the same page with not only design styles but with the final investment price.
Meet with several designers
Meeting with a potential designer is the best way to find a style and personality that blends well with yours. Many designers are well trained but it is most important to find one that listens to you and designs based on your style. A good designer will guide you along the way choosing products that work well together and reflect your personality in the end.
Request credentials
When you have narrowed down your decision, request credentials from both the designer as well as the installation team. Be sure that the designer is certified and the installation team is licensed, bonded and insured. A certified designer will ensure your layout will function well and meet all NKBA standards and codes. A licensed install team will give you peace of mind knowing all aspects of the remodel are covered.
Choosing to work with a certified designer will help you through what many feel is a very daunting task. From design to product selection they will guide you every step of the way making the process fun and rewarding. In the end, you will have a beautifully designed bath that will serve you for many years to come. Happy remodeling!
Trish Takacs, AKBD Senior Kitchen and Bath Designer for Dream Baths and Kitchen Kraft