The master bathroom is a place for sanctuary and resale value.  In recent years the resale value of a master bathroom has started to conflict with bathroom remodeling.  Many homeowners are investing in removing their built-in tubs and envisioning larger showers.  However, the loss of a tub in the master bathroom can hurt the resale value of the home.  Freestanding tubs are an alternative way to increase the value of a home without sacrificing other aspects of a bathroom remodel.
There are many other reasons to use a freestanding tub in a bathroom design.  They come in different sizes, colors, and shapes.  This gives designers and homeowners the ability to use them as a piece of art within a design, or use it to compliment other materials in a bathroom.  Freestanding tubs are luxurious, and provide an excellent soaking spot for escaping life's demands.  They are also a good way to make smaller bathrooms feel spacious.
Below is an example of how a homeowner removed her built-in tub, replaced it with a freestanding tub and installed a his and hers shower.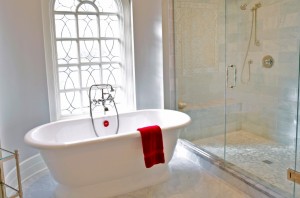 If you are looking to remodel your bathroom, Dream Baths by Kitchen Kraft will come to your home to measure and design your dream bathroom. After the design has been finalized we will help with the selection of bath cabinets, countertops, tile, lighting, plumbing fixtures and hardware. Our production team will then make sure your bath design and remodel become a reality. Contact us today!