With summer coming to an end, it's time to prepare for fall. Here's our favorite kitchen recipe for Caramel Apples, a fall favorite!
Ingredients:
5 ripe, red apples
1 pound soft, store-bought caramels
2 tablespoons water
1/2 cup chopped peanuts
5 wooden skewers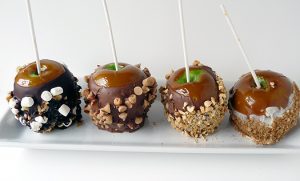 Preparation:
1. Begin by washing the apples and removing their stems. Stick the wooden skewers securely into the stem end of the apples.
2. Boil some water in the bottom of the double boiler. Unwrap the caramels, and place them in the top of the double boiler with the two tablespoons of water.
3. Place the pan with the candies over the boiling water. Let them heat up, and stir them gently until they are completely heated and smooth.
4. Remove the caramels from the heat. Dip the apples one at a time into the melted caramel and coat them.
5. Dip the tops into the chopped peanuts, and place each apple in a cupcake paper. Chill the apples in the fridge until the caramel is set. (post in blog)
 Tip: Switch up the toppings! Use sprinkles, sugars, coconut or anything else sweet to coat your apples