The new owners of this outdated, 1980's style bathroom knew some major changes needed to be made to make it fit their lifestyle. A complete redesign of the bathroom was needed. The couple worked with designer, Jim Deen, president of Dream Baths by Kitchen Kraft located in Downtown Columbus, Ohio, to create the perfect bathroom.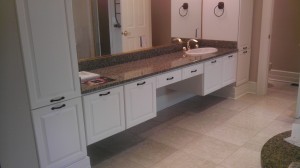 One of the first major changes was turning the old shower into an accessory closet, and then deciding where to build the new shower. "Converting an old shower to an accessory closet was unique. It was my first time to do this, and the design took some time to think through,"Jim said. The new shower is four times the size of the original shower and measures at 84 in long by 52 in wide with a built-in bench. Two separate shower heads were installed as well; the wife picked a rainhead showerhead, while her husband chose the more traditional adjustable showerhead.

Next, was moving the sinks to set on the same wall, creating his and her sinks, which were originally on separate walls. Three Venetion Mirrors from Restoration Hardware were installed and all cabinets were custom manufactured by Grabill Cabinets. Super white granite tops, as well as Carrara Marble tiles were installed on the walls and floors.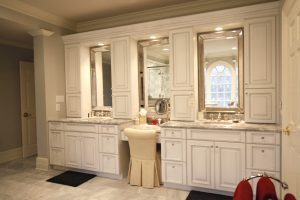 "My favorite part of the project was seeing the color pallet come together. The whites and grays with the polished nickel made it classical," Jim said.

The project was completed in six weeks. "The couple couldn't be happier," Jim said. "We're smiling like roses," the couple said. If you are looking to remodel your bathroom or kitchen contact us here. We would be happy to set up a free in-home design consultation with you!