No well-designed room is complete without one very important component: lighting!  Of all of the rooms in your home, lighting is perhaps most important in the bathroom.  Imagine completing your bathroom tasks without it.  Lipstick would be smeared, shaving could be downright dangerous, and a trip to the toilet could be, well….messy.  That is why it is so important to choose wisely when it comes to lighting for your bathroom.
Lighten Up
Not every light was created equal.  You will want brighter light where you will be getting things done, soft light when you want to relax in a bath, and functional lighting to make late-night bathroom runs safely.  In the bathroom, there are four different types of lighting, and ALL FOUR should be incorporated for the most balanced, functional space.
1.   Task Lighting
Maybe the most important, task lighting is the light by which you check off your list of "things to do" in the bathroom.
Wall sconces on either side of the mirror at eye level (about 36-40 inches apart) provide the best lighting to shave, brush teeth, and apply makeup.
Avoid lights above the mirror, as they will cast shadows AND can age you by 10 years!  Ditch that Hollywood lighting above your mirror ASAP.
Look for lights that provide 75-100 watts of illumination for best results.  Consider a dimmer switch for task lights to make early mornings easier on your eyes.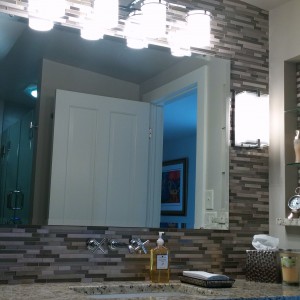 2.   Accent Lighting
If you have unique features in your bathroom that you would like to highlight, you do it with accent lighting.  Think of it as a spotlight on the things you want to showcase.
Use recessed directional lights to highlight a piece of artwork.
Highlight unique tile work in the shower with an angled recessed shower light.
Consider bringing attention to a sink basin that is distinct with a little pop of light.
3.   Decorative Lighting
Think of this as the icing on the cake.  Decorative lighting adds sparkle and shine to your bathroom and can add a luxurious touch to your design.
A glistening chandelier mounted above a bathtub can set the tone for a luxurious retreat.  Be sure to follow building codes, as most require at least 8 feet between the base of the light and the tub.
In a larger bathroom, consider two or three pendant lights mounted along the ceiling.
Of all types of bathroom lighting, this is the area you can go for more character and style.  That means crystals, beads, and all the bedazzle you want.  Let your personality shine through decorative lighting choices.
4.   Ambient Lighting
This type of lighting is a general, indirect light that illuminates the whole room.  This can also help to offset bright light that comes from task lighting.
Often achieved through ceiling lighting.  Try a flush mount ceiling fixture to provide a warm light to illuminate the entire bathroom.
Ambient light can also be achieved through natural light.  See below!
Natural Lighting Is Best
The absolute best source of lighting in ANY room is natural light.  However, especially in bathroom spaces, natural light is not always available.  Powder rooms and secondary bathrooms are often interior spaces without any windows.  Even master baths lack adequate natural light.  Luckily, there are cost-effective, easy solutions for this problem.
Adding a window in a bathroom is not always as intimidating as it sounds and can make a huge difference.  Talk with your contractor about this possibility.
Skylights have come a long way and can bathe your bathroom in beautiful natural light.  Velux have a line of "fresh air" products that are perfect for smaller spaces like bathrooms.
If you don't want to get into a new window project or skylight, Solatube can bring natural light into your space easily and with very minimal installation time.
Other Bathroom Lighting Tips
Be sure any bathroom light fixtures are 

certified for "damp locations"

 or "wet locations" if used in the shower or tub.
If you have to have a vanity bar above a mirror, make sure the lights have shades to avoid shadows.
Choose lighting fixtures with white shades in the bathroom (white, frost, clear) to mimic natural light.
Put your fan and lights on separate switches so you do not have to always have the fan on every time you turn on the light.  Also, have task lighting on a separate switch from decorative and ambient lighting.
If the process of putting together a lighting scheme for your bathroom seems overwhelming, take a deep breath.  A certified bathroom designer at Dream Baths can help guide you through the process.  Putting together a spectacular bathroom is like putting together a puzzle. Each piece plays an important role and if one is missing the picture does not come together.  Let us help you to put your puzzle together to form a bathroom you will love to call your own!
Call Dream Baths today for a consultation: (614) 754-6045.