If you have a small bathroom, you might feel like the lack of space will make any redesign attempts impossible. In reality, there are actually quite a few ways to open space in a small bathroom and create an appealing bathroom design. Check out these tips on ways to make your small bathroom feel a whole lot bigger.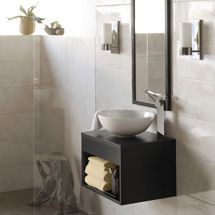 The main key to creating a bathroom that appears bigger is lighting. Going with a large mirror, even if it's bigger than your vanity, will at least create the illusion of more space. Another way to make your bathroom feel more open is to use windows and skylights to let the sun in
There are also ways to maximize the space you do have rather than just making it seem like there is. A corner sink or rounded vanity are a couple of ways to open more floor space and prevent the hazard of people bumping into the corners of your vanity. Another vanity option is a wall hung vanity that looks great and can make some room for small items underneath. You can also extend the vanity over the toilet to make more storage space (a premium in small bathrooms). Storage space is also another reason to avoid pedestal sinks. Finally, a wall-mounted faucet or toilet can give you a few extra inches of walking space.
There's all kinds of ways to get the most out of your bathroom space, it just takes a little creativity! The experts at Dream Baths know all the tricks to give you the most space possible. Contact us for a free in-home design consulation and we'll get started on opening up that tiny bathroom! Also, check out our Houzz and Pinterest pages. There's plenty of examples of how your small bathroom can turn into a dream bathroom!