Furniture looking vanities are becoming a trend in bathroom remodeling. This style of vanity adds a touch of luxury into the bathroom. The spa look and feel is still high on many homeowners' wish lists, and a furniture looking vanity can give a bath a luxurious feel without destroying their budget.  Even though "furniture looking" may sound traditional it is not limited to being used in a traditional bathroom design.  Just like there are many different styles of furniture, there are many different styles of vanities that have a furniture look.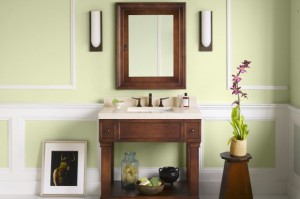 Furniture looking vanities differ from the basic vanity cabinet because they are not mounted to the wall for support.  Furniture looking vanities may have feet or legs and can stand alone.  Some of the features of these vanities include woodcarvings, glass inserts, dovetail drawers, soft-close doors and drawers.  Wall-hung vanities are also an option and can offer the same features as furniture looking vanities.
If you are looking to remodel your bathroom or interested in a new vanity, Dream Baths by Kitchen Kraft, in Columbus, Ohio offers a variety of vanities and much more! Dream Baths will come to your home to measure and design your dream bathroom. After the design has been finalized we will help with the selection of bath cabinets, countertops, tile, lighting, plumbing fixtures and hardware. Our production team will then make sure your bath design and remodel become a reality. Contact us today!