Many homeowners love the look of hardwood flooring, but are not able to bring that look into the bathroom, mudroom or basement. In recent years tile manufacturers have developed wood look tile design and themes. A wood look tile can create a look of luxury to a bathroom remodel.  Although wood will always have a warm, natural and luxurious look, it is not always a good fit for every room in your home.
Tile is more cost effective than wood flooring.  Wood looking tiles come in many different finishes and sizes.  Wood flooring also comes in many finishes and sizes but can come at a price.
Wood looking tiles are perfect for a wood look in bathrooms, mudrooms and basements.  Wood can crack or expand when wet, tile is moisture resistant. You could install wood-looking tile in your kitchen and still have that luxurious hardwood flooring look.
Tile can be run over a radiant heat system whereas regular hardwood flooring cannot.  Imagine walking on a tile floor that looks like hardwood on an early winter morning.  Or if you live in a year-round warm and humid climate tiles are cool year round cool to the touch tile would be a pleasant addition. Tile does have less noise insulation than wood, and can be uncomfortable to stand on for a long period of time.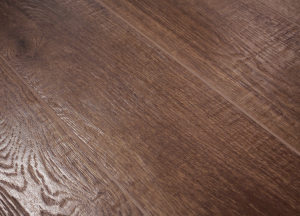 Wood flooring can be scratched by pets, or dented by heels and even crack.  Tile cannot be scratched by pets or easily dented by high heels.  Tile can crack, but if installed properly should not.  If one tile should crack it is much easier to replace than one broken piece of hardwood flooring.  It is always a good idea to keep extra tiles around to replace tiles over the life of the floor.
If you want to learn more about wood tile flooring give us a call at 614-754-7045 or fill out the contact form to your right. We would love to hear from you!