Are you sick of the way your old shower curtain just hangs around? Considering throwing away your shower curtain for a shower door? Here is a breakdown of the three different levels of shower doors and what each has to offer.
Framed: The framed shower door is an entry level or builder-grade quality.  It looks just like it sounds with a large metal frame mounted to the tub or shower pan and walls with metal framed doors placed on a track.  The metal is typically a chrome finish and the glass is usually obscured.  The glass is thinner than on other doors with 3/16 to 1/4 inch thickness.  This door is the most difficult to clean, but has the lowest dollar investment.
Semi-Frameless: This door style keeps the frame, but there is no metal around the doors.  The frame holding the doors is also not as large as the framed shower doors. The doors can still slide on a track or can be hinged.  The glass is 1/4 of an inch thick, and there are more glass options available.  There is also a wider variety of metal finishes for the frame.  This door is easier to clean and requires a higher dollar investment.
Frameless:  This is style of shower door that is found in most high-end luxury hotels.  There is no metal frame or frames around the doors only the hinges, and there is a wide variety of metal finishes to choose from.  The glass is 3/8 of an inch thick or thicker, depending upon the style of glass that is selected. This door does have a higher wow factor and is easier to clean than the other doors.  It is also the most expensive of the three options.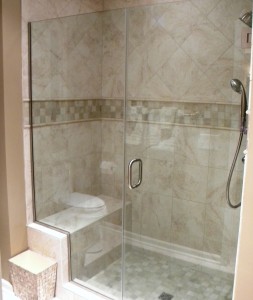 If you are interested in replacing your shower curtain with a shower door, Dream Baths by Kitchen Kraft, located in Columbus, Ohio offers a variety of products. We can show you what your design project will look like with 3d visualization in full color so you can create the perfect bathroom. Contact us today!